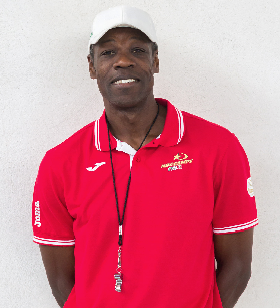 Kevin Florent has an 18-year career as a professional basketball player in Europe. He has played in Germany, France, Israel and Cyprus. He has won 4 national championships, 4 national cups, numerous dunk contests, and many other prizes. Kevin Florent started playing basketball at the age of ten, at Lutcher Elementary School, Louisiana. His talent, work ethic, and passion for basketball was awarded a scholarship to Southern University, Baton Rouge, Louisiana, where he played for four years as a shooting guard and small forward. He was the best scorer and rebounder on the team. Upon graduation, Kevin was cast into the United States Basketball League (USBL) in West Palm Beach, Florida, where he played for a year before being signed to the Bamberg club in Germany. He won the dunk contest at the All Star Game in Germany. The following year, Kevin was signed to play for Pezoporikos Basket Club, in Larnaca (Cyprus), where his team won the Cyprus championship two years in a row. Kevin won the dunk contest again at the All Star Game and led the team in assists, rebounds, stolen blades, and blocks. He was also named MVP of the championship. The following year he played in the Tour, France (1st Division) and after just one season, he returned to Cyprus to play for AEK Basket Club, Larnaca. Kevin played in Cyprus for 2 more championships, before signing with Hapoel Afula in Israel for 2 years. Kevin returned to Cyprus and played with Keravnos, Nicosia, where his team won the Cyprus championship and reached the Saporta Cup quarter-finals. He was also the playoff MVP. After his success with Keravnos, Kevin played for Apoel, Nicosia winning the Cyprus cup. Kevin Florent ended his professional basketball career as a player / manager with AEK Larnaca where he led the team from the second division to the top with a perfect unbeaten record. Kevin continues to enjoy his coaching career always with AEK. Kevin's love and passion for basketball, combined with his many years of expertise and experience, allow him to promote and encourage the younger generation of basketball in the future!

COACHING EXPERIENCE
HAPOEL AFULA Basketball Club, Israel, from 1995 to 1997
Pezoporikos Basketball Club, from 1990 to 1991
– AEK Basketball Club, 2004 to present.
– NBC Basketball Camps Italia, Director and head coach, Castel Di Sangro, Italy, 2010 – 2015.
– AEK Basketball Club, from 2004 to 2006 • Coach 1st Team Coach and Player.

PROFESSIONAL BASKETBALL CAREER
• United States Basketball League (USBL), 1988 – 1989
• Bamberg Basketball Club, Bamberg, Germany, 1989 – 1990
• Pezoporikos Basketball Club, Larnaca, Cyprus, 1990 – 1992
• Tour Basketball Club, Tour, France, 1992 – 1993
• ENAD Basketball Club, Nicosia, Cyprus, 1993 – 1994
• AEK Basketball Club, Larnaca, Cyprus, 1994 – 1995
• HAPOEL Afula Basketball Club, Afula, Israel, 1995 – 1997
• Omonia Basketball Club, Nicosia, Cyprus, 1997 – 1998
• Paderborn Basketball Club, Paderborn, Germany, 1998-1999
• Achilleas Basketball Club, Nicosia, Cyprus, 1999 – 2000
• Keravnos Strovolou Basketball Club, Nicosia, Cyprus, 2000-2001
• AEL Basketball Club, Limassol, Cyprus, 2001-2002
• APOEL Basketball Club, Nicosia, Cyprus, 2002 – 2003
• APOLLON Basketball Club, Limassol, Cyprus, 2003 – 2004
• AEK Basketball Club, Larnaca, Cyprus, 2004 – 2006
• APOP Basketball Club, Paphos, Cyprus, 2007 – 2008
• ENP Basketball Club, Paralimni, Cyprus, 2011 – 2012